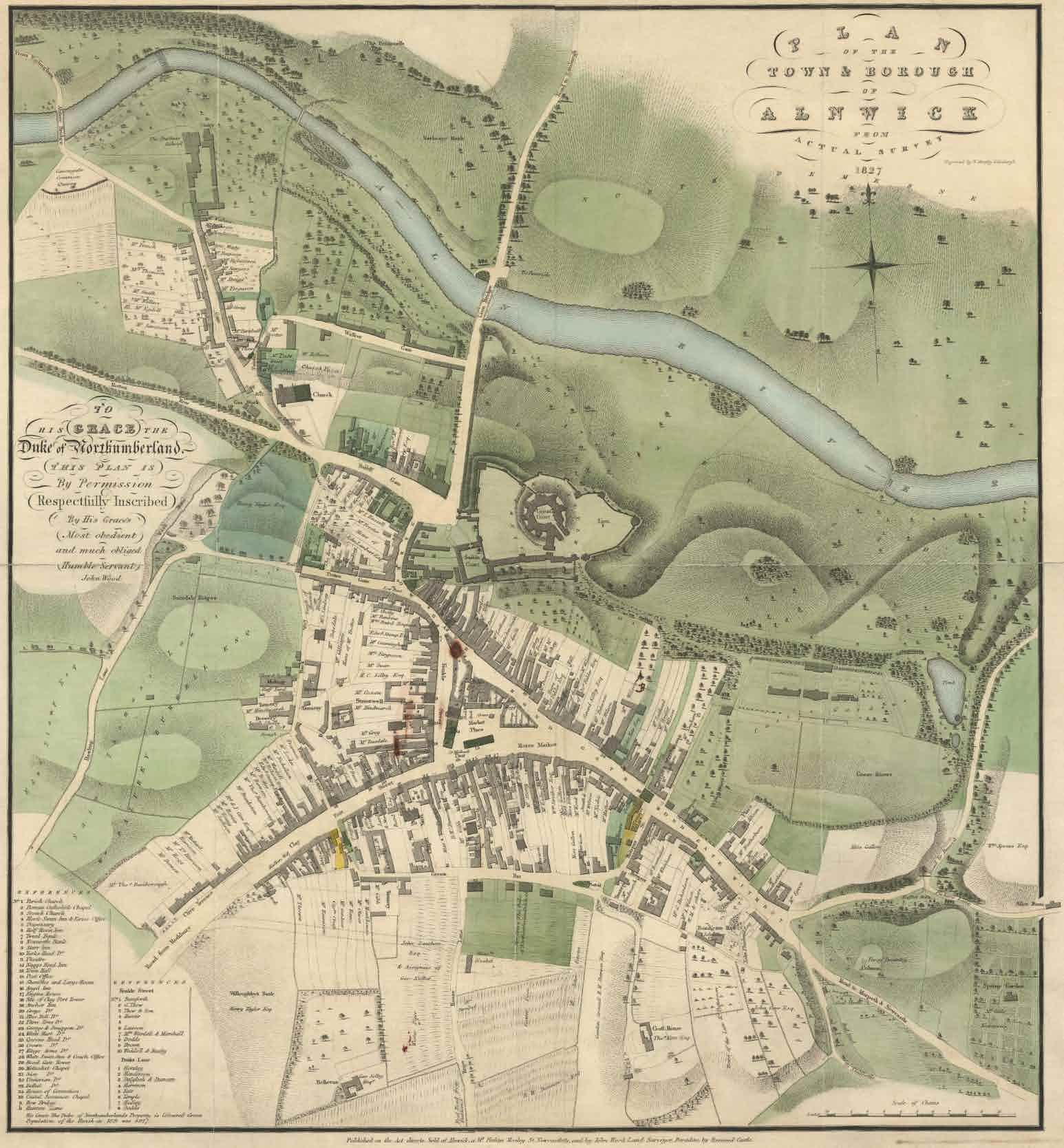 Almost everyone who takes an interest in the 19th century history of Alnwick will be familiar with the map drawn by John Wood in 1827. Wood's mapping isn't as accurate as the Ordnance Survey would achieve later. However, the level of detail is remakable, and far exceeds other maps of the time. His work predates the detailed Ordnance Survey maps of Alnwick by several decades, and it includes information that the Ordnance Survey did not. So Wood's map of Alnwick is an important source of information about the history of our town. We regularly return to it, to see what he recorded about Alnwick's early 19th century buildings and people.
John Wood was born in Yorkshire around 1780-85, and he died in 1847. He trained in North Yorkshire then lived in Edinburgh after he married. He is best known for his detailed plans of Scottish towns, but he produced town plans across England and Wales as well. Apparently his normal practice was to do field-work between late March and September / October, then he would return to Edinburgh to have his drawings engraved over the winter.
By 1826 Wood had almost completed his work on Scottish towns, and his map of Alnwick was produced for a Town Atlas of Northumberland and Durham. This included plans produced between 1820-7 of Berwick upon Tweed; Morpeth; Hexham; Newcastle upon Tyne and Gateshead; North Shields and Tynemouth; South Shields; Sunderland, Bishop Wearmouth and Monk Wearmouth; Durham; Darlington; Stockton and Barnard Castle.
The National Library of Scotland has scanned Wood's plans of Scottish towns and makes them available <here>. These are highly detailed, high quality scans. They do not include Alnwick, but they do include Berwick. Wood's descriptive account of Scottish Towns can be downloaded from the Internet Archive <here>. The chapter on Berwick starts on page 48 ("The town of Berwick is, in general, well built…"). Wood's maps of Welsh towns (which include Chester) can be found <here>.
Wood's maps were not printed in large numbers, and few of us will ever be lucky enough to have access to an original copy. However, Northumberland Archives hold an original at Woodhorn and they can produce duplicates. Their contact details are <here>. There's a low resolution copy of Wood's plans of Alnwick and other Northumberland towns on the Northumberland Communities site <here>, and there's a higher resolution version of the Alnwick plan on the Archaeology Data Service site <here>.